Perform any day to day tasks at your fingertips 24/7
You Have Choices With Your Plan
Choose from a few NO COMMISSION model portfolios to fit your financial goals such as:
Or
Pick NO COMMISSION products on your own OR
You can work with an advisor of your choice OR
If you need assistance with the platform of choices- Contact Us
Here is a Small Sample of Your Fund Choices: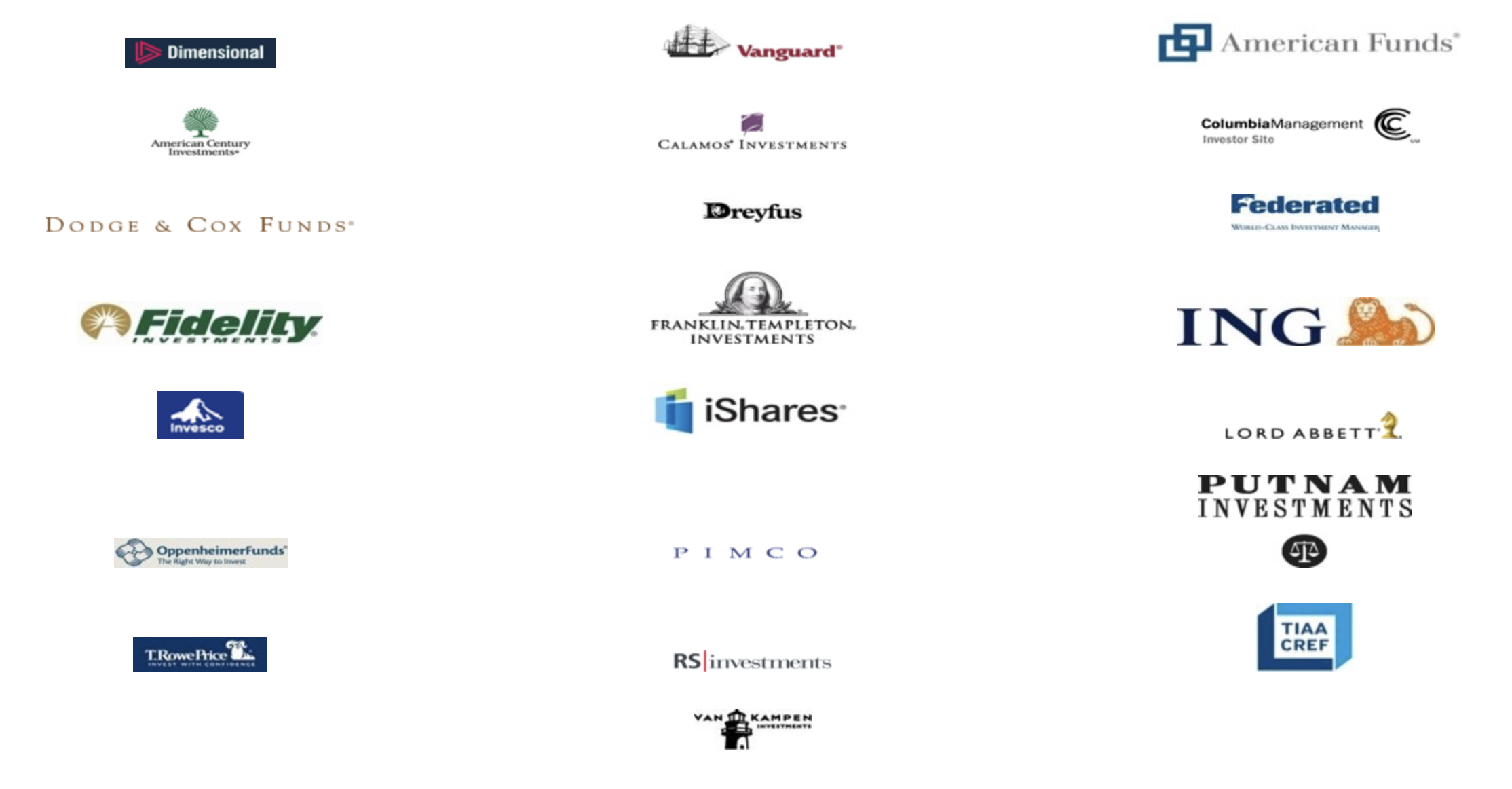 Enroll Now
To enroll in the 403(b) for your School, please complete BOTH of the forms below:
To waive enrollment in the 403(b) for your School, please complete the following form:
Operational Forms
Below you will find forms you may need when working with your account. Please print off the appropriate form and complete the form in its entirety. Sign and date the form and send by one of the following methods:
Forms:
Mail:
403b Consultants LLC
PO Box 1264
Norfolk, NE 68702
Fax:
402-379-3818
Email:
Financial education should be a lifelong endeavor — from encouraging children to save their allowances to helping adults plan for a secure retirement. The 360 Degrees of Financial Literacy website which is sponsored by the American Institute of Certified Public Accountants (AICPA) offers general information for managing personal finances. Main topics include: credit and debt, the work world, spending and saving, in crisis, retirement planning, investor education, and taxes.
Our firms have CPA's on staff that have earned the certification of Personal Financial Specialist (PFS).*
---
*This designation can only be acquired by CPAs who are AICPA members (binding them to the Code of Professional Conduct), have a minimum of 1,400 hours of financial planning business experience, in addition to continuing education within the last five years and a comprehensive and rigorous personal financial planning exam.
What is a 403b plan?
A 403b plan is a salary reduction retirement plan. Once an employer adopts a 403b plan, eligible employees may choose to make contributions as well as possibly receive contributions made by the employer on their behalf.
---
How do I contribute to my 403b plan?
Complete the Enrollment Form and the amount is automatically deducted from your paycheck.
---
When are contributions deposited into my 403b plan?
No more than 15 days after being withdrawn from your paychecks.
---
Do I pay taxes on 403b plan contributions?
403b plan contributions and any earnings on your contributions are not subject to income taxes until you withdraw the funds (assuming it is a non-ROTH contribution). Participation in a 403b plan does not reduce your Social Security benefits.
---
May I make changes to my contribution amount during the year?
You may stop or begin your salary deferral for 403b plan contributions anytime with advance notice (subject to Employer Plan Document – contact your plan administrator).
---
How much may I contribute to my 403b plan each year?
| | | | |
| --- | --- | --- | --- |
| Year | Employee deferral contribution limit | "Catch-up" contributions for workers 50+ | Total Contribution Limit (with catch-up) |
| 2021 | $19,500 | $6,500 | $26,000 |
---
May I withdraw money from my 403b plan (subject to Employer Plan Document – contact your plan administrator)?
Your 403b plan contributions are meant for retirement, but you can withdraw for:
Loans (minimum of $1,000)
Hardship distributions (such as death, disability, etc.)
Permissive service credits
Federal and state taxes and/or penalties may apply (contact your tax advisor or financial provider).
---
Can I roll/transfer other retirement accounts into my 403b?
Yes, this feature is allowed to consolidate various accounts into one (subject to Employer Plan Document – contact your plan administrator).
---
How often will I receive information about my 403b plan?
You'll automatically receive statements quarterly and have access to your account online day or night. You are able to print a statement on demand for any period you select.